Graduation Day
So finally, the day of graduation was upon me. I don't think I could prepare for this because it's really a weird thing to meet and befriend so many people, just to know that in three weeks, it's likely you will never meet them again.
Graduation involved every class sitting in Room 511 to perform presentations of any kind to celebrate the past three weeks and the confidence and english improvement of each student that participated. 
Lisa and Ms. Green's class went next first with a performance of sign language by her 5 students who did not go to Cambridge. They also did a skit about Thanksgiving from friends which was adorable.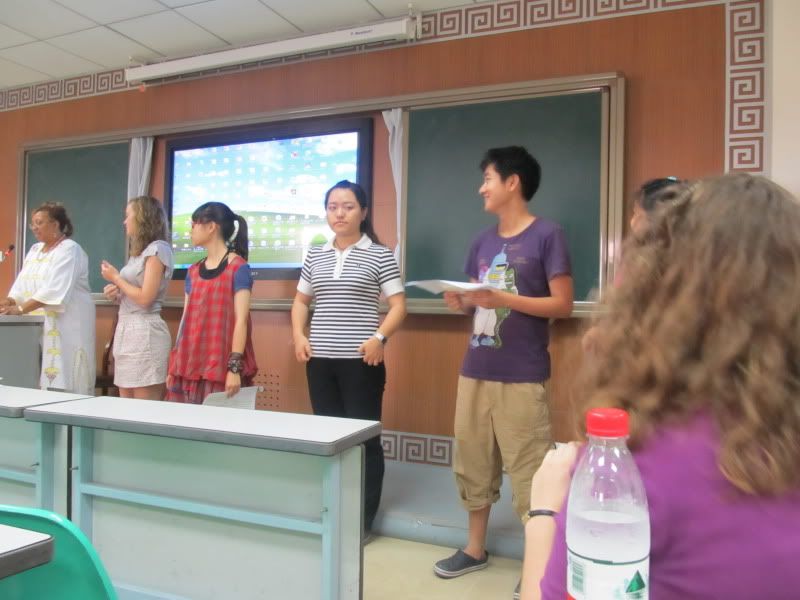 The class doing sign language.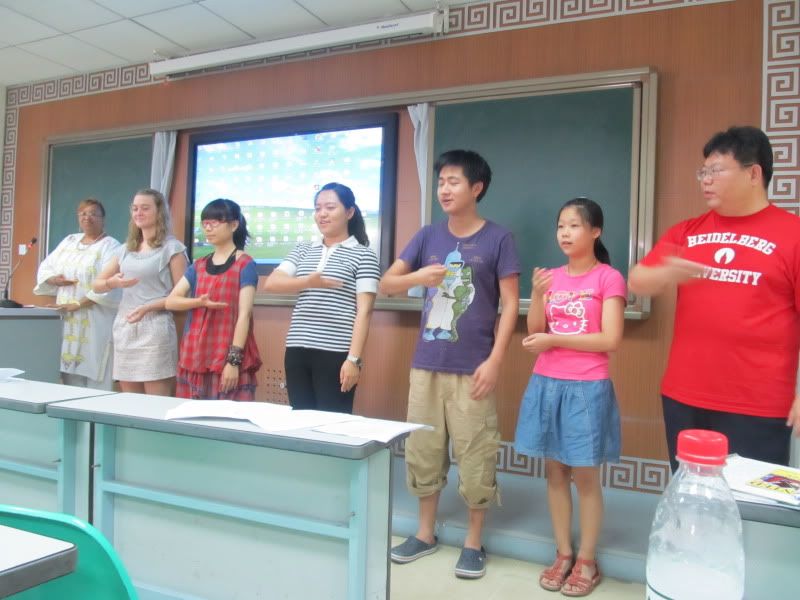 Again.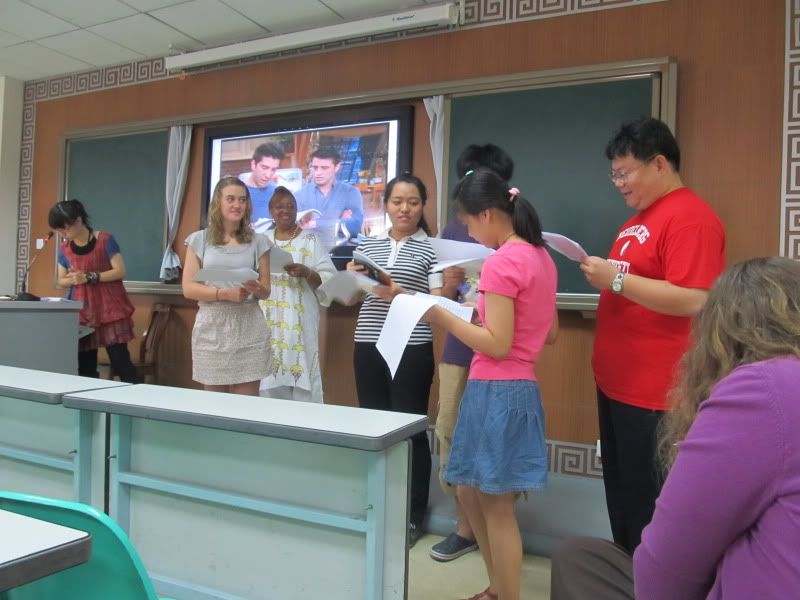 Doing a skit from "Friends".
Next, Dr. Mahon's group went by doing presentations. One of the students did a presentation on her hometown and province, which was very interesting. She had tons of pictures of sculptures and events that went on in the city each year. The next student showed things about Peking Opera facial make-up, which was  very interesting. She talked about what the different colors meant and what the different masks and ways to paint your face were for.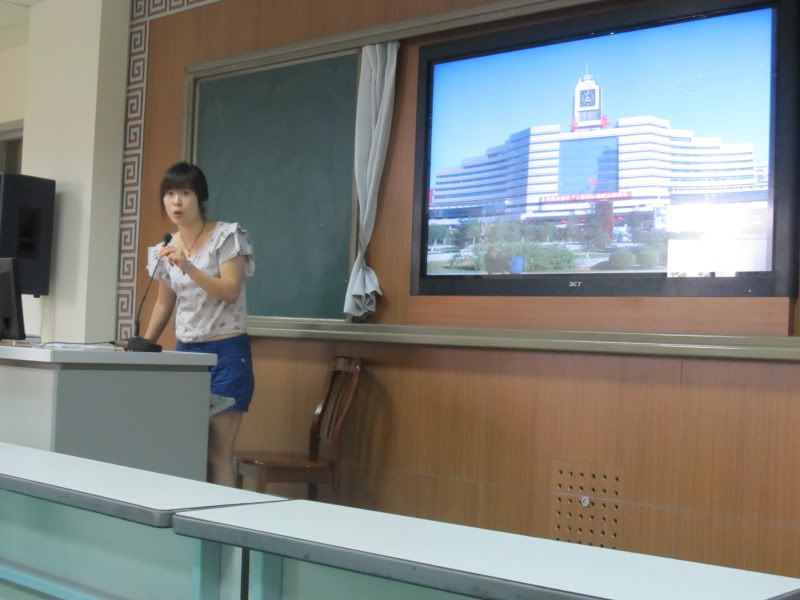 The girl who did the presentation on her hometown.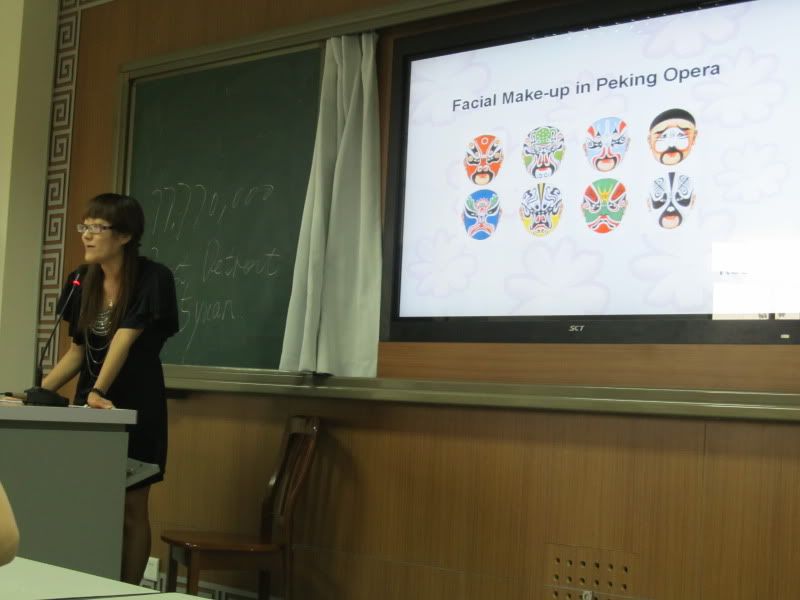 A presentation about facial make-up in operas.
We then thought we were running out of time, so we had to cut Dr. Mahon's presentations short and hopefully do them at the end if we had time.
Mary's class went next, with Sophia giving a speech about the past 19 days and how much she learned and they meant to her. It was so touching and really did make me sad. Amber, one of her students, said that she had put together a powerpoint presentation, so Mary allowed her to include it.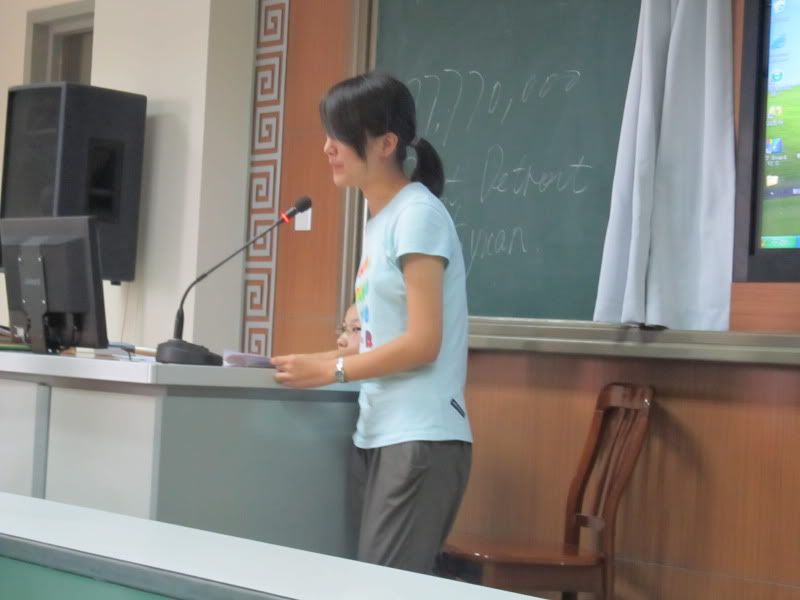 Sophia giving a thoughtful speech.
The powerpoint was tons of funny pictures about things that happened in and out of class. At the very end, different students stood up with gifts and gave something to each of us. They gave Lisa, Alexa, and I a bracelet made out of a traditional Chinese grass. It's beautiful and it's such a great reminder of all the times I've had here. 
The presentation about our visit.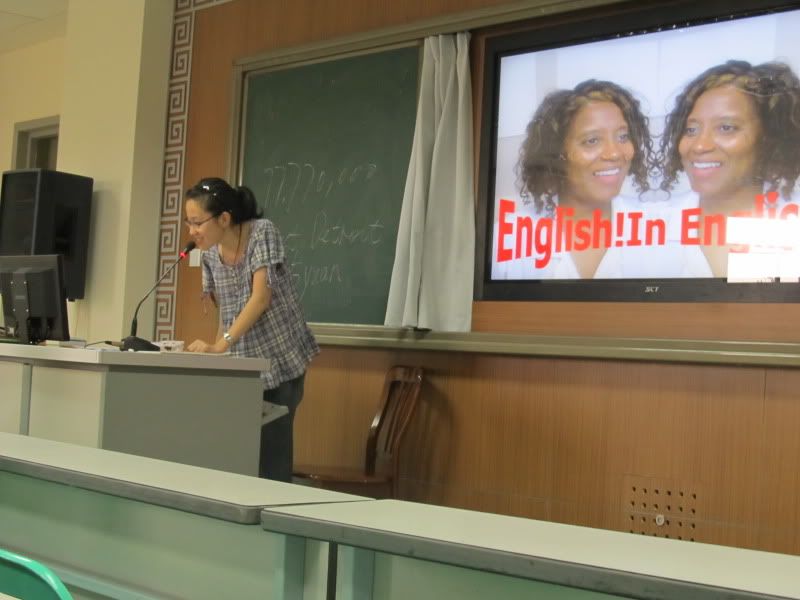 A slide joking about how Dr. Sanders and all of the rest of us always saying "English! English!" when students tried using Chinese.
That presentation was followed by Davis and Mary doing a duet from Disney's Brother Bear called On My Way by Phil Collins. I'll see if I can upload the video in another post because it was so cute and so perfect for the occasion. 
Next, Mary's entire class shared all their wishes with the rest of the class. They definitely almost brought the tears.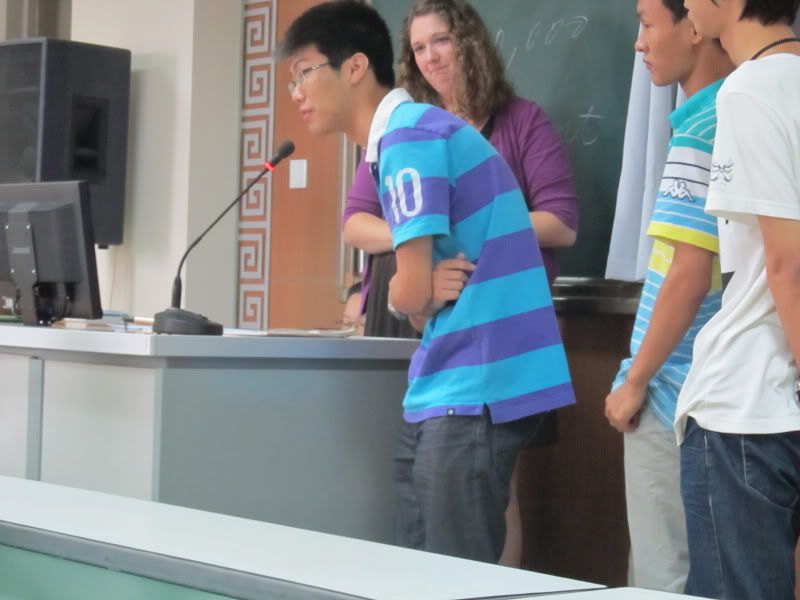 Davis sharing his wishes with everyone. I only have video of Mary and Davis singing and I'll try to upload that when I get back and the connections better.
Finally, my class was ready to present. We had a combination of featuring different talents from our class and things we performed for fun. We first showed Lulu's coffee commercial that he made. It was so funny and it was a great way to kick things off.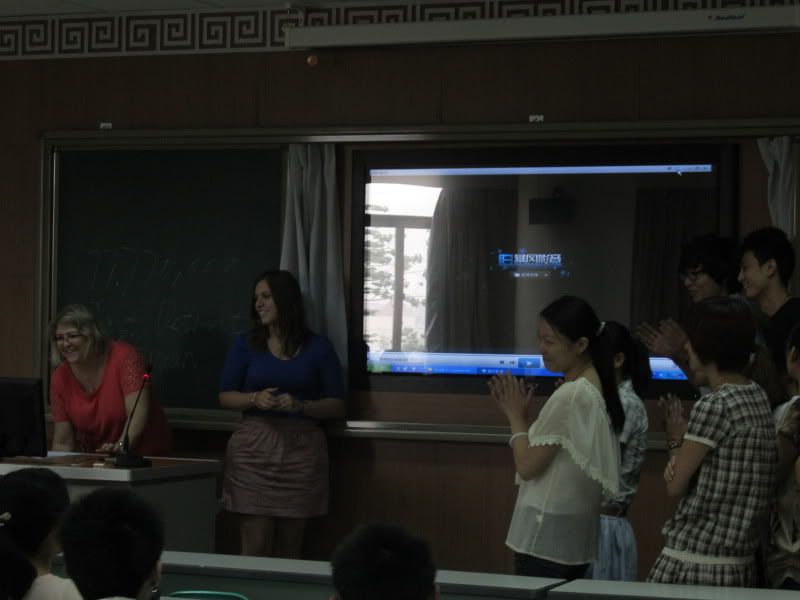 Getting Lulu's coffee commercial ready.
Next, Jim showcased some of his art that he has done, which was so impressive, I can't even tell you. He showed some 3D housing designs, some Chinese paintings, and some watercolor on a powerpoint for everyone to see. People were very impressed and I was so glad he got a chance to stand up confidently and share his talents. 
Jim, showing some of his drawings.
Henry and Jack were next, performing a song that Henry had written the music for and Jack had written the lyrics. They performed the entire song in Chinese, then again in English, and finally again in Chinese. It was really, really touching.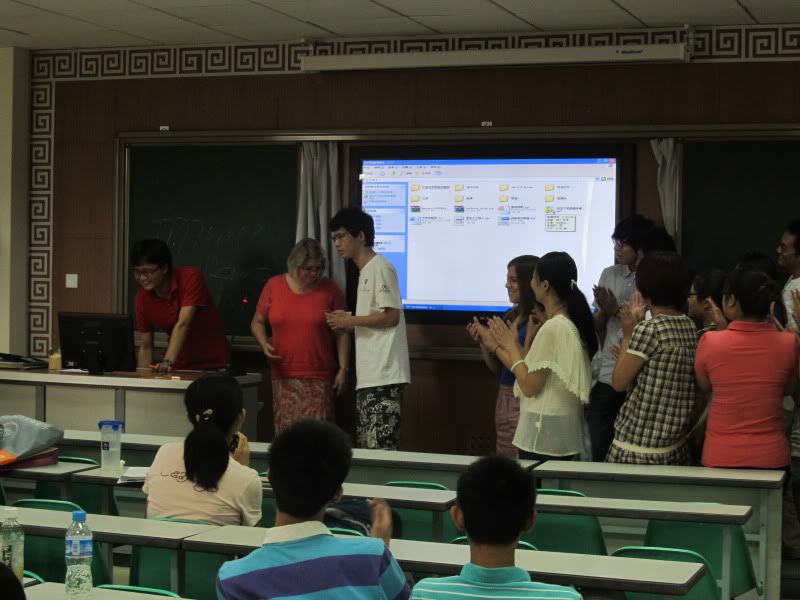 Henry and Jack.
We then started the class participation, where our entire class spread out along the front of the class and did the macarena. It was absolutely hysterical, because it's funny watching a bunch of people doing a dance they've only learned prior, but also because we forced others in the audience to participate.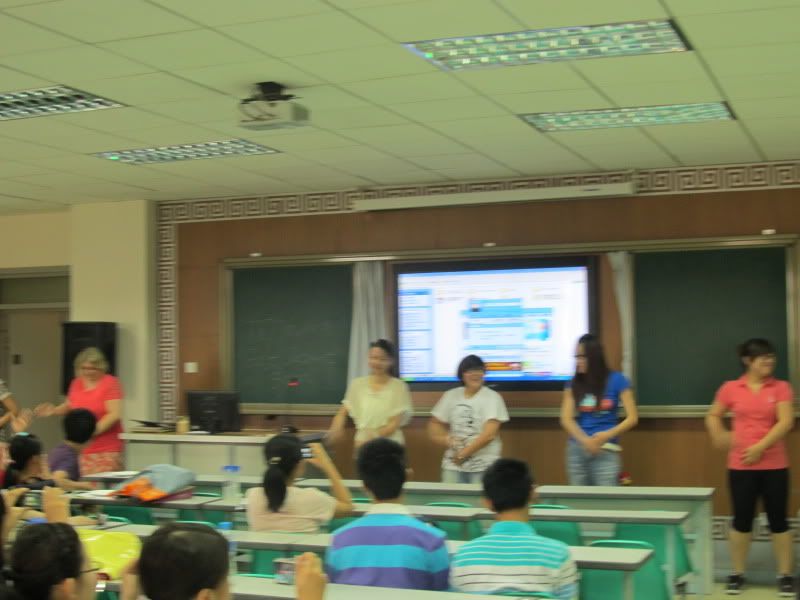 A blurry picture of us dancing.
Finally, we wrapped up our segment of the graduation with the song"Can you feel the love tonight?" in the Lion King. Our whole class sang, as did many of the other classes. Some of the University of Wisconsin girls studying here had just gotten out of class and came in to see the performance because they heard us singing. It was a really special way for our class to end our time together.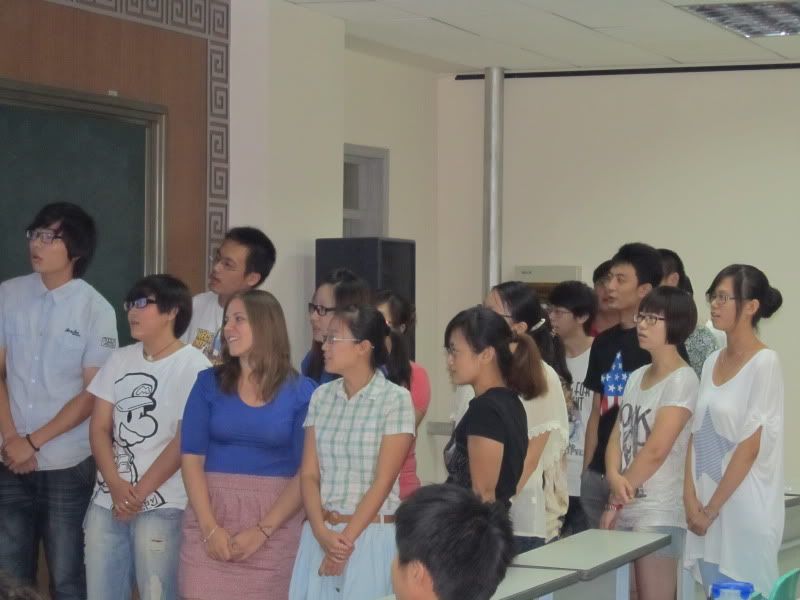 The class and I singing "Can you feel the love tonight?"
It ended up that we had extra time because we were waiting for the Dean to pass out certificates. Therefore, we invited Dr. Mahon's students back up, where Element gave us a run-down of many Chinese teas. Then Vicki, another student, gave an abbreviated version of her 40 slide presentation on the Forbidden City.
Element presenting on tea.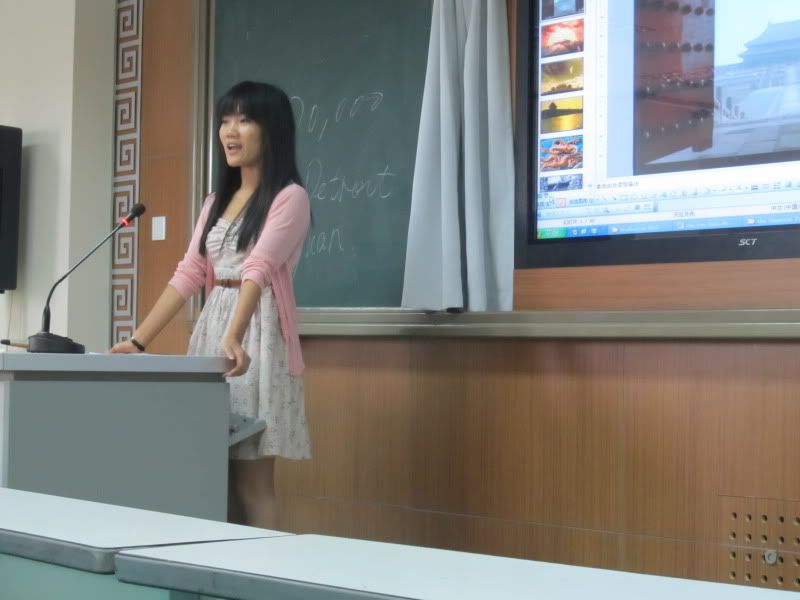 Vicki's presentation.
Dr. Mahon's class wrapped up with Pansy, a student, singing Chinese opera, which was very good to the rest of the class.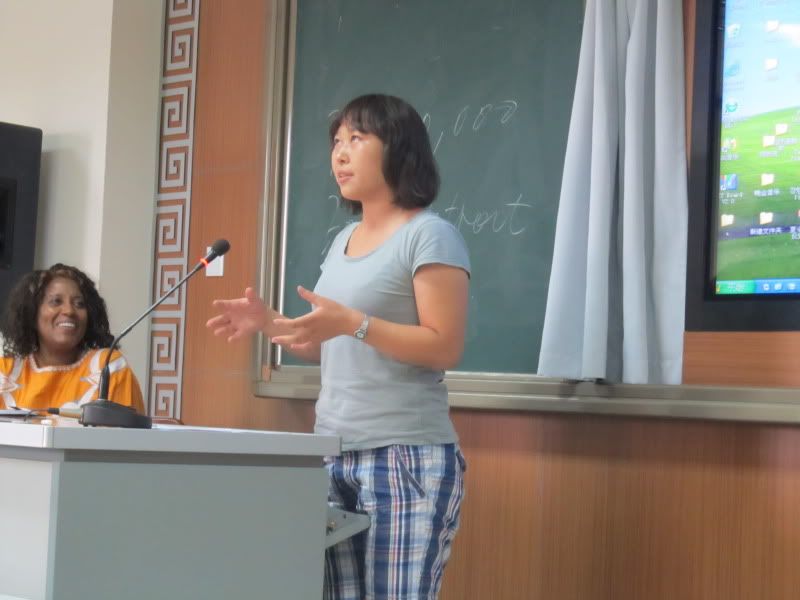 Pansy singing opera.
We still managed to have extra time, so Dr. Wasserman had our class get up and we performed and taught the shark song to the class. We also did most of the macarena and got almost everyone to participate.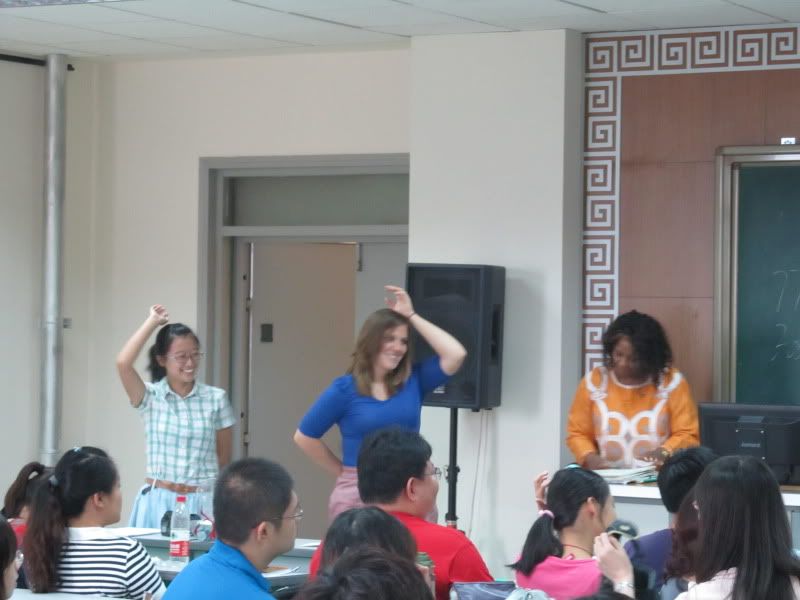 Baby shark performance, very embarrassing.
Finally, the Dean arrived and we presented him with a gift of stamps of actor Gregory Peck, because Dr. Sanders said that the actor reminded her of the Dean. He then helped pass out certificates to each class.
I managed not to cry once during any of the presentations or goodbyes. It was really sad saying goodbye to my class, but I know they have bright futures and are going to go very far in life. I have all of their emails and I hope I can stay in touch with as many of them as possible.
Some of the students gave me gifts to say goodbye. Lulu and Sharon had given me coin purses the day before. Others had written us all letters, which were so sad. Nancy, from Lisa's class, gave me a jade necklace and a postcard on it, which was sooo nice. Jessica from my class gave me some panda chines. Stephen, also from my class, gave me a Chinese good luck hanging thing. A lot of them made very impressive homemade cards that mean more than anything!
This experience teaching has been so amazing. It's left such an impact on me and I definitely feel that I've learned a lot about Chinese culture and about diversity. I was nervous having to teach students, especially because they were older than me, but I learned that age and ethnicity are still just minor details in the grand scheme of things. We all were very alike, even though we lived in different countries, and I'm so glad that I could have this experience.
After graduation and the goodbyes, we had a closing ceremony dinner in the hotel. I sat with Simon, Lisa, Mary, Alexa, Jim and Ellen were invited (from my class), Ms. Li, and Eugene. The food was amazing as always and I love sitting and talking with everyone.
Because of impending rain and a little bit of flu like symptoms on some of our parts (I'm healthy so far…knock on wood) we decided to push Culture Street to tomorrow. Therefore, we just headed upstairs to take a nap for about two and a half hours, which was much needed for the sick ones in the group.
After dinner in the hotel, we all got ready and met with Simon and Jim and went out for the night which was sooo much fun. We went to the Sitong Bar, which is a bar with a lot of foreign people apparently. We just sat at a table and hung out for a couple hours. Lisa made tons of friends with people who barely spoke English outside around us. We were definitely completely safe, which I wasn't sure about, but definitely we were all good with Simon and Jim being our "body guards".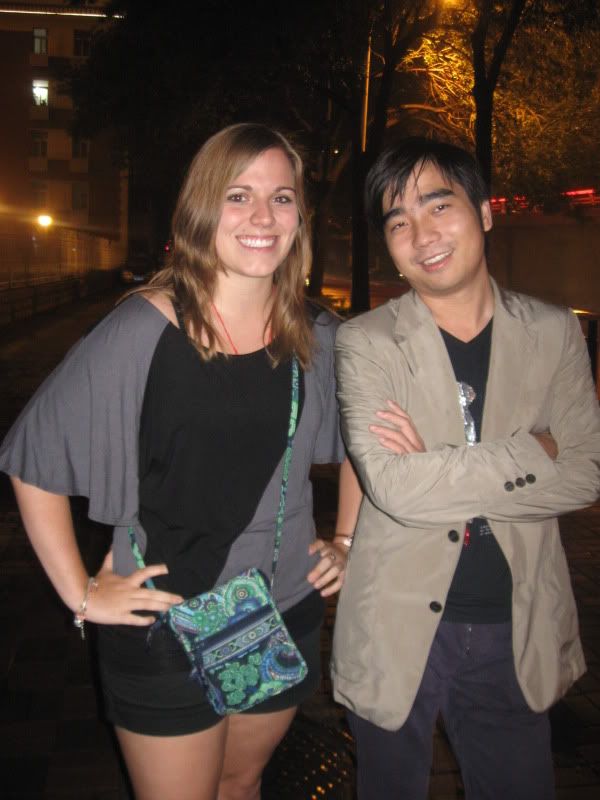 Before going out. Our favorite asian!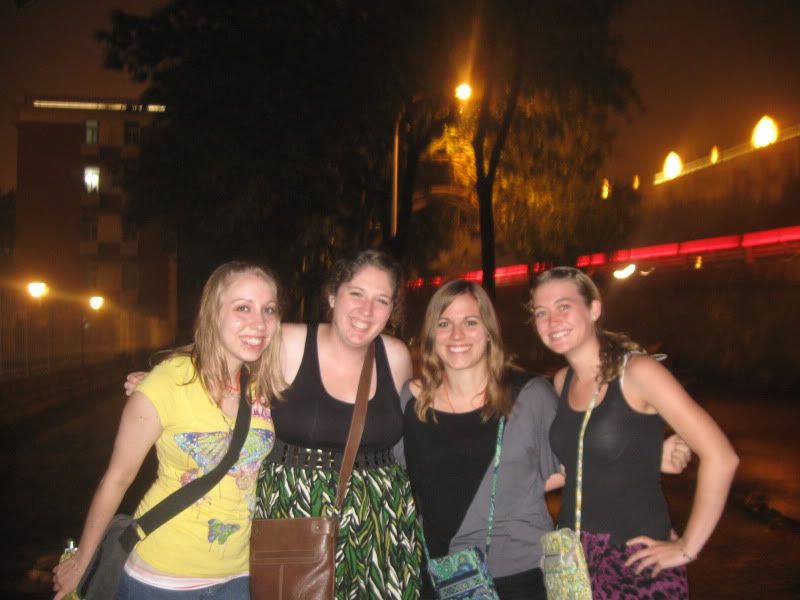 Alexa, Mary, me, and Lisa waiting to get a taxi.
Mary, Lisa, and Simon.
Simon and I. He loves us, even if he pretends we're annoying.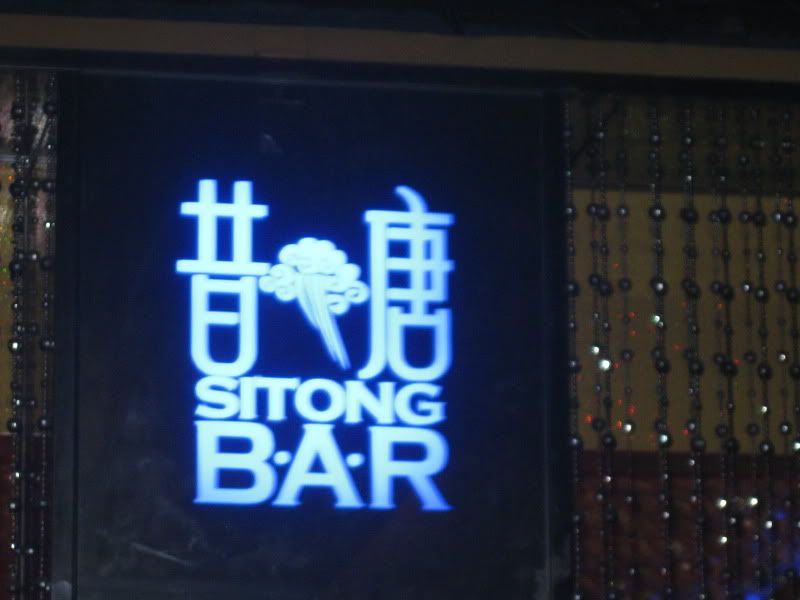 The Sitong Bar.
Outside the restaurant, we ran into two men in their late 20s. One of them was Italian and he started talking to Lisa. While he was talking to Lisa, Mary and I started tallk to the other guy who was from Ohio! So obviously, we were all super excited we ran into someone from Ohio. Apparently he wast here for a year and a half for business. He was an engineer and had another 8 months left in China and he was from Newark, Ohio. Very cool.
After that, we went to late night karaoke and just hung out for like an hour or two and sang some songs. We finally called it a night, of course in the pouring rain, and took a pedicab-style thing back.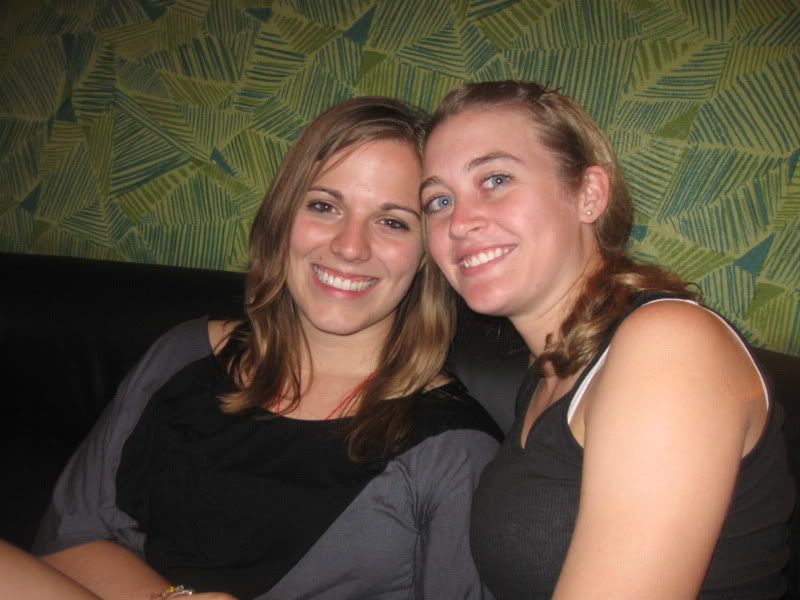 Lisa and I. 
The whole day was lots of fun. It was a majorly busy day but really great.
I'm working on trying to upload pictures…it's going a little slow. So I figured I would just upload this post that I had written and fix it later.